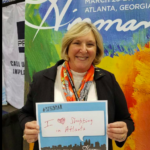 Digital Tips for the Best Hinman Ever!
They say the Hinman Dental Meeting is not just another dental meeting, but an "experience." Each year the Hinman's tradition of excellence, hospitality, knowledge and friendship make for an incomparable gathering often referred to as "the Hinman Experience." The sheer size of the Hinman is an experience unto itself. Over 20,000 dentists, hygienists, assistants, students and industry professionals from over 50 states and around the world will meet in Atlanta for the 105th Hinman. With extensive formal and informal education opportunities, the Hinman is a rich environment to connect with experts, network and develop professional relationships. So how can you pack all this learning and fun into 3 short days to make it your "Best Hinman Ever?"
The theme of this year's Hinman is "The Changing Face of Dentistry." Just as advances in technology and digital applications are changing the face of dental practice, so too are they changing dental meetings like the Hinman. To keep up with this accelerated pace, we've pulled together our top digital and social media tips for a fun and productive meeting. Taking just a few minutes to map out the conference and get organized on and offline this week can help make for a full and successful Hinman experience.
Digital Strategies For The Hinman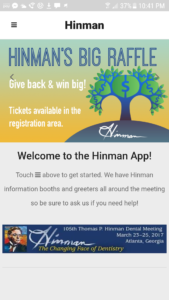 DOWNLOAD the new Hinman app to your phone! Now. Yesterday. We can't say enough about how awesome this app is. No question that this is the best conference app we've seen, covering everything from courses to exhibits, speakers to career connections, tomaps of downtown Atlanta and all the venues. The app will also send last minute announcements and reminders during the meeting. Don't wait another minute: download the app to your phone now!
DOWNLOAD or print materials for the courses you are attending. To be more environmentally conscious, the Hinman is providing digital access only to documents, and you are encouraged to either view the materials online or print them. You will receive registration confirmation in advance, including a user name/password to access handouts. Access is available through May 12.
ORGANIZE with the free Pocket app. If you don't already use Pocket, now is a great time to start. Pocket is the best and easiest way to organize your trip research, letting you save interesting articles, restaurant recommendations, and research from the web for quick and easy reference later.
PLAN your visits to Exhibits and Vendors. Study the vendor list to note the vendors you wish to speak with. If you have a customer service issue or product query with a vendor, set up a meeting in advance. And be sure to check out the Show Specials! Note that this year the Hinman Dental Meeting is featuring exclusive exhibit hall hours on Thursday, March 23, from 3 to 5 p.m.

Watch for Rita in the exhibit hall! You are sure to find her visiting her special friends at DeW Dental Entrepreneur Woman Magazine. Rita is on the inaugural board for DeW Magazine. Read her latest contribution: Social Media in Dentistry: Raw or Perfect, Just DeW You. Visit DeW's Booth #1151 and tell them Rita sent you! And be sure to enter their raffle for a free one year subscription to DeW Magazine, an Amazon Echo and an American Express gift card.
TAKE NOTES There are a number of free or near free note-taking apps that can help you keep track digitally of all the fresh ideas and new products you encounter. For speed and simplicity, we are big fans of simply using audio recorder on your phone to record ideas on the fly. For IOS users, the free NOTES app almost can't be beat for ease of use and simplicity. Another free and easy tool for both IOS and Android is SimpleNote. Power users might like Evernote. Or you can kick it old school with pen and paper. But try drawing some doodles with your words -research show doodling helps you pay attention and retain more information!
Social Media Strategies For The Hinman
GET SOCIAL Follow the Hinman Dental Meeting on all their social media channels to stay informed and connected. Also follow your favorite vendors -including Rita Zamora Connections!
#MYHINMAN Use the #MyHinman hashtag! Every time a a video or photo is shared on social media with the hashtag #MyHinman, Hinman will make a donation to a scholarship bank, and you have an opportunity to win one of five $500 cash prizes. Share a #MyHinman story by posting a short video or a photo on any social media platform highlighting things like:
Your favorite thing about Hinman / what you look forward to most
Years attending Hinman
Favorite memory from a past event
What makes Hinman different than other dental meetings
Why you are looking forward to attending Hinman 2017
TAKE PICTURES! The Hinman offers the ideal opportunity to highlight your professional development activities for your patients back home. Some photo opportunities to be on the lookout for: 1) pictures with your practice colleagues; 2) pictures of you in front of Atlanta landmarks (especially outside with great lighting!); 3) pictures with favorite vendors; 4) fun stuff. Take LOTS of pictures, but post only the very best images to your practice's social media. Remember, your patients aren't waiting at home for you to post pictures of your Hinman trip. Less is more: one excellent image beats 5 mediocre images. Every image you post represents your brand, so have a plan to get great pictures! If you have a lot of good pictures, consider putting them into video or collage using an easy, free app on your phone such InShot or VideoStitch.
GO LIVE. Have you tried Facebook Live yet? The Hinman offers a wonderful opportunity to give this hot Facebook tool a spin. The trick to an interesting Facebook Live -like all good social media- is having something worthwhile to say. Plan a quick interview with an interesting colleague or vendor, or just talk briefly about your favorite part of the conference. Why not try it from your personal Facebook page first? If it's a success, the video can be repurposed later for your practice page. (Pro tip: we at Rita Zamora Connections can help!)
INSTAGRAM Is your practice on Instagram? Instagram is practically made for events like the Hinman. Instagram is all

about images. On Instagram, the image is the message, with an emphasis on hashtags (think #MyHinman) and little text narrative. Because the best of Instagram (and other social networks for that matter) is relationship building, posting to Instagram from the Hinman allows you to connect with colleagues and patients in a different way than is possible on other social media platforms. Besides, we all look fabulous using Instagram filters!
LEARN the latest in effective online marketing and social media strategies to attract and retain more patients. Rita is pleased to return to the Hinman this year with 3 compelling learning opportunities.
Websites and Online Marketing That Resonate with Patients
Explore the key differences between how dentists typically choose to communicate to patients online versus what patients actually want to see and hear. Discover prospective patients' existing mindsets, and how to exceed expectations through effective online marketing strategies that truly resonate. You will receive a checklist for dentists to upgrade your online presence, from the practice website to other online marketing mediums. Review techniques to leverage your practice's online presence to become a true community resource for oral health.
Course: Th327
Date/Time: 3/23/2017 12:00 PM – 3:00 PM
Type: General
Audience: Assistants, Dentists, Hygienists, Lab techs, Office Staff, Spouses, Students
Dentist Fee: $0.00
Other Fee: $0.00
Room: GWCC, B407
Get a Little Closer: How Social Media Can Help Deepen Patient Relationships
Explore the incredibly unique relationship between a patient and a healthcare provider, and how it's inherently different from the typical business/client relationship. You will distinguish the profound difference between patient satisfaction and patient loyalty, and how assuming they're the same thing can hurt your dental practice. Plus, discover techniques for building patient loyalty via social media and electronic communication, and find out how using technology to deepen patient relationships pays off exponentially!
Course: Fr236
Date/Time: 3/24/2017 8:00 AM – 11:00 AM
Type: Registered
Audience: Assistants, Dentists, Hygienists, Lab techs, Office Staff, Spouses, Students
Dentist Fee: $80.00
Other Fee: $50.00
Room: Omni, Dogwood A
Word of Mouth: The Secrets of Generating Referrals From Existing Patients and Through Online Reviews
Learn the ideal way to ask a patient for a referral or an online review and also the perfect timing for doing so. You will discover who in the practice should be asking for referrals and online reviews, and how to thank patients in a way that strengthens, rather than cheapens, the relationship. Review the concept of online reputation management and why positive online patient reviews are just as important as personal referrals.
Course: Fr267
Date/Time: 3/24/2017 1:30 PM – 4:30 PM
Type: Registered
Audience: Assistants, Dentists, Hygienists, Lab techs, Office Staff, Spouses, Students
Dentist Fee: $80.00
Other Fee: $50.00
Room: GWCC, B401
HAVE COFFEE & a free Consultation with Rita! Meet with Rita for a free consultation on your social media and digital marketing questions. The coffee is on us! Hurry -availability is limited! Just fill out this quick form and Rita will schedule a visit at the Conference.
Rita first spoke at the Hinman Dental Meeting in 2014, and she is thrilled to return again this year for the "Best Ever Hinman!" See you in Atlanta!