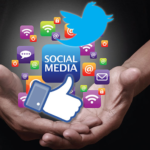 EXCUSE ME DOCTOR, YOUR SOCIAL MEDIA IS SHOWING
Where is social media marketing headed? Imagine a world where people are expected to know personal details about their doctor, such as where they vacation, what kind of pets they have, whether they are married or single, or which gym they work out in. If that makes you uncomfortable, you are not alone. However, there is a new generation of dentists who are perfectly comfortable sharing the details mentioned above and a whole lot more.
Check out Rita's insight in the entire article here, on The Progressive Dentist Magazine.